We are delighted to announce the launch of Crypto vertical in Alfaleads. We are all set and ready to go: you will find dozens of crypto offers with a high CR on the platform.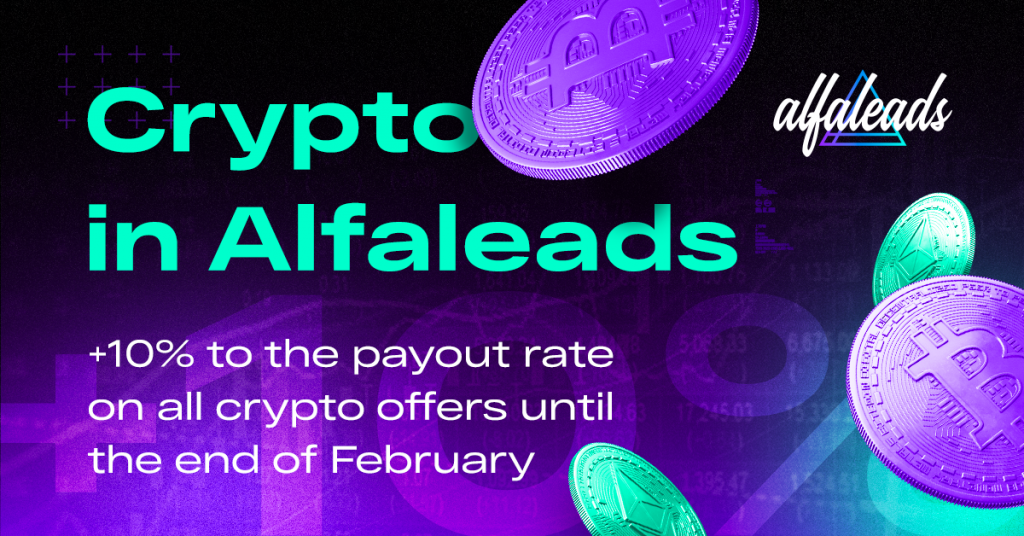 The GEO coverage is massive, there are ready-made promo materials available and CPA/CPL payout models for you to choose from. Our team will assist you with the launch.

? And to make things even better, we give all crypto offers a 10% boost to the payout rates until the end of February ?

Why do affiliates love crypto?

Today, crypto has the highest payout rates out of all offer verticals.
Depending on the GEO, we see CPA rates from $300 to $1050. Also, the payout rate does not change with the traffic source, so you can pick the ones you know best.
Quality processing of leads
The customer retention team works with each user individually and keeps in close contact with them. It contributes to the minimum hold period for affiliates.

Tried and tested campaign funnels
Crypto is not a newbie-friendly vertical, but affiliates with iGaming expertise will find the approaches and creative angles quite familiar.

Reach out to your dedicated manager to our Customer Care team to activate a crypto offer and get a 10% boost!

How to get a boost?

Reach out to your dedicated manager or to CCT
Activate any crypto offer
Ask for a 10% payout rate boost
Run successful campaigns till the end of February ?