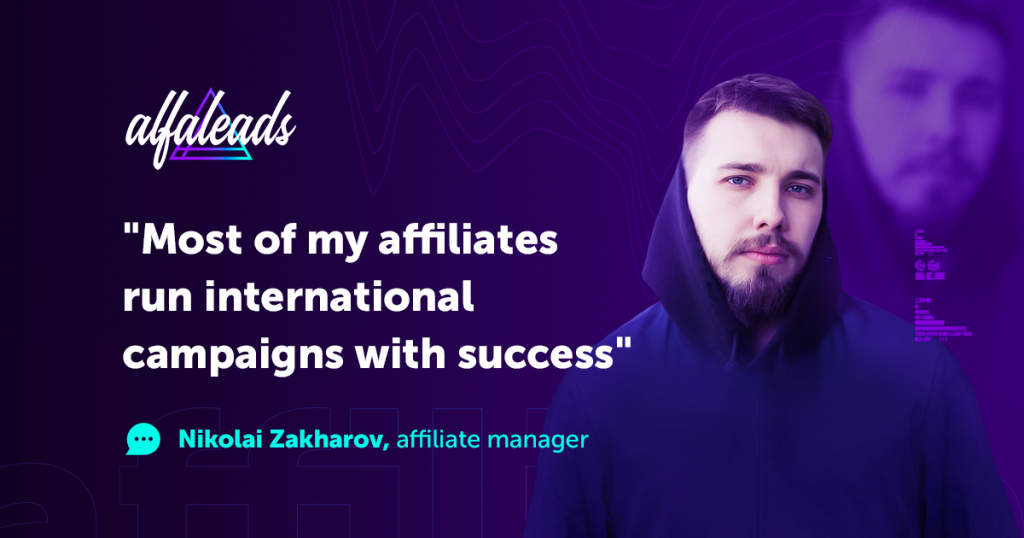 In this interview, Nikolai Zakharov, another experienced affiliate manager from our team, will share many interesting and useful things.
Nikolai will help you with scaling and building great flows, negotiate better terms with advertisers, and solve any issue you might have with traffic sources, apps, or conversions!
Contact Nikolai on Telegram: https://t.me/nikolay_alfa
And now it's time for the interview!
If affiliates had to choose from our managers, what qualities would distinguish you among others?
1. I always try to cater for all the needs when it comes to my affiliates. It's not just picking the right offer, it's understanding the underlying reasons for the request. I need to know everything there is about the affiliate in question — his strengths, goals, interests. Thus, I will be able to find the perfect offer. I also try to impress upon the affiliates I work with that they are capable of more than they imagine.
2. I always read all the messages carefully, so that no bit of information goes unnoticed. I try to make every conversation useful for the affiliates. No message gets lost, no request is ignored.
3. I try to think out of the box. I like to say that insurmountable problems do not exist as long as you are creative enough!
Tell us about your professional journey.
I started out as a specialist in targeting and design. Then I got to driving traffic from Facebook and Vkontakte to e-commerce offers. After that, I qualified as an affiliate manager and started working with grey-hat utilities and applications. I mainly worked with English-speaking affiliates and website owners.
In a nutshell, I know a thing or two about the hardships of working hard on driving traffic only to see your campaigns getting banned every other minute.
Now as an affiliate manager, I do all I can to help my affiliates earn and to solve their issues.
Please, share your expertise in working with the international market.
The majority of my affiliates run successful campaigns on the international market. I have the necessary expertise and understand the nuances and pricing in different GEOs. I know what to expect from casino campaigns for the European part of Tier-1, or what difficulties arise in Tier- 2 or 3.
Now, for example, we are launching many CPL casino campaigns with traffic from applications, banners, and media placements. With the team, we test out the hypotheses and different flows to give our affiliates the best tips.
Do your affiliates have any success with Dating?
Recently many affiliates became interested in Dating. I ease the campaign launch because I know the issues they may face while driving UAC traffic to dating offers. I also know how to drive traffic to Dating offers from different networks, banner ads, teaser ads, and pop-under. My affiliates have no difficulties with such campaigns.
There was a guy who wanted to drive UAC traffic to Dating offers with Russia as a GEO. We talked it over and I assessed his experience. Together we launched an exclusive offer, and it took him only one week to get into the green. In this campaign, we had testing, fast feedback from the advertiser, and an extended frequency capping. And then we scaled this campaign up.
Another case. I had a conversation with an affiliate who believed that you can only have negative ROI if you drive UAC and mobile app traffic to Dating offers. We discussed the matter, I found out his strong sides and suggested several offers with high CR and our brand-new Dating apps. As a result, he launched a very profitable campaign! I even negotiated a renewed frequency capping for him with the advertiser. He is a great guy!
In short, when people don't believe in this hypothesis or some other, it is my job to make them see that anything is possible. I show the examples, prove that it's worth the effort. Rest assured, that when you pose me a question, in 95 % of cases you will get a satisfactory answer. Try me, here is my Telegram: https://t.me/nikolay_alfa
What GEOs are the best pick right now in your opinion?
If we speak of Europe, I would advise the Netherlands. It's a profitable GEO despite all the issues. In terms of payouts and fewer issues, I recommend choosing Japan and Australia. India is also looking good right now, although it is difficult to find traffic of high quality there and offers usually lack proper localization.
Still, it always depends on the affiliate and his strengths. For some affiliates, I would pick Ukraine or Kazakhstan, others would be better off with Eastern Europe, India, or Latin America. I know the pitfalls of any of these GEOs, their differences, and strong sides.
And what about traffic sources? What would you recommend?
It varies depending on the circumstances. For instance, it is difficult to run iGaming campaigns with traffic from ad networks while Facebook works fine. For this vertical, I would always choose SEO traffic. Those who run SEO campaigns always get the best from iGaming.
In the case of Dating, I would suggest traffic networks. And In-App traffic is on the rise right now. It's a whole new world full of opportunities.
What are your strengths?
1. Superb social skills. I can get on anybody's right side.
2. I notice small things and go into deep analysis. I try to notice the details in my conversations with affiliates. What they mean, why, and what it's for?
3. Affiliate marketing is my life. All of my acquaintances are from this industry: affiliate marketing all over the place. Even when I brush my teeth in the evening, I keep thinking: "So, I have these issues I need to deal with, how do I approach them?" And then I see the solutions in my dreams just like Mendeleev did.
QUICK Q&A
What keeps you focused?
At my desk, I always have a teapot full of traditional Chinese tea. It helps me fight stress and negative situations.
Are you good at English?
I don't have a language barrier. I have been working with foreign affiliates for several years.
Name three hobbies.
1. Watching various conferences like Apple and Samsung
2. Keeping up with the news on computer games
3. Meditation
Why do you like affiliate marketing?
In this industry, you can never hit the limit neither in profit nor in knowledge. It is ever-changing and developing, we see new approaches and directions all the time.
Why do you like Alfaleads?
I heard many good things about Alfaleads and wanted to join this company. I like the variety of projects and the company's approach to media.
What difficulties do you face in your job?
Sometimes I have to talk to so many people, that I just get tired of talking.
Your advice to novice affiliates?
Be flexible, do not be afraid to run tests, consider working with foreign GEOs, diversify your verticals, and trust your affiliate managers — they want you to earn more!
Is it true that now it is harder to work as an affiliate marketer than a few years ago?
We hear naysayers every year, still every time we only see the development of new approaches. It is important not to give up and to keep on testing. I will always be there for you to share my knowledge. Hit me on Telegram: https://t.me/nikolay_alfa