Betting is one of the most profitable and popular verticals today. After the 2018 FIFA World Cup, the interest and engagement increased dramatically, and new betting platforms and offers startedappearing on the market. During the World Cup, up to 60% of all men living in Russia not only supported the teams, but also made their bets on games.
Moreover, sports betting is transparent and easy to understand for the target audience. Betting sites are trusted more than casinos because people think there is no element of chance. Online casinos may be perceived by someone as a fraud, but sports betting is a prediction based on people's knowledge of the teams, players, etc. That is, betting is not associated with gambling (although it actually is a type of gambling).
This explains the benefits:
Simple funnel;
Clear target audience;
Long period of user activity;
Simple moderation process on advertising platforms (compared to Gambling).
The main task here is to choose the right formula to attract users.
Who are betting cappers? They are professional analysts possessing a lot of information about the sports world who make money on betting and predictions. Sometimes they share their predictions withother people (for a fee or for free).
Types of monetization
There are two main types of offers in the Betting vertical. CPA offers are those where affiliates get a payout every time a deposit is made (the term "deposit" may be defined in a few different ways, so you need to check this information with your personal manager). RevShare offers are those where an affiliate is paid a percentage of the sum the user loses on betting.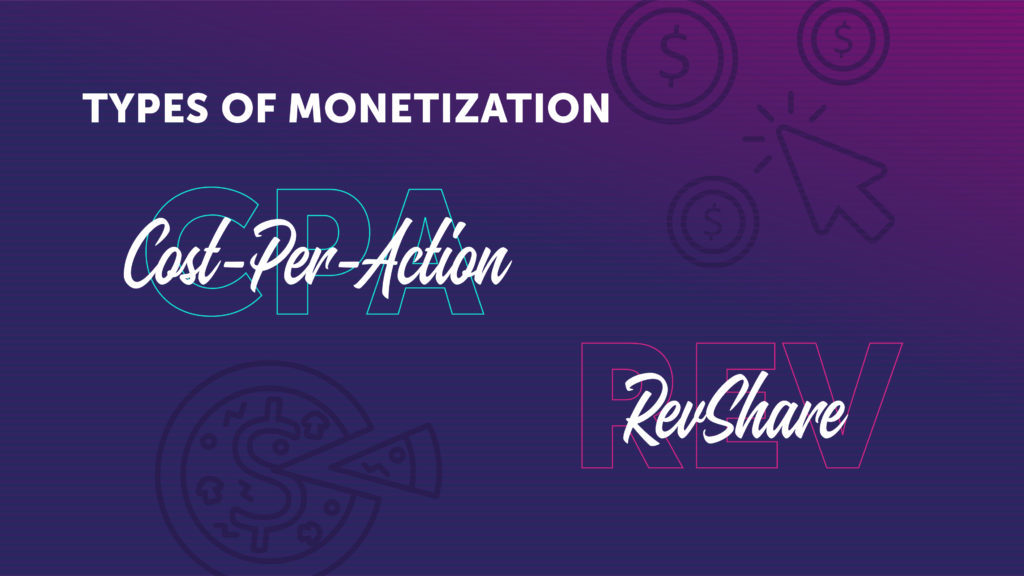 Which to choose? It's for you to decide. The CPA model is perfect for those who are just getting started with this vertical. However, takinginto account the period of activity of each bettor, you should probably consider choosing the RevShare model, because it will giveyou passive income in the long run.
Target audience
In addition to regular sports betting, there is eSports betting (cyberbetting). The core target audience is generally the same for both betting and cyberbetting, but there are some differences.
The target audience for betting: 25+ years old men who are interested in sports, betting, online earnings, betting plaforms, etc.
The target audience for cyberbetting: 18+ years old men who are interested in cyber sports, computer games, online earnings, betting, etc.
GEOs: Russia (million cities), Ukraine, Kazakhstan. If you speak otherlanguages or have relevant advertising channels at your disposal, you can consider offers targeted at other countries.
Types of betting platforms
There are two types of betting platforms.
Licensed platforms. Those are licensed in Russia or other countries where they operate. There is a regulating organization where the user goes through one-time verification process. Licensed betting platforms offer higher payouts.
Unlicensed (offshore) betting platforms. These companies are not licensed. They usually don't require user verifiction. However, the links to such websites often get blocked or deleted, so you need to use new links quickly.
In any case, it is important to follow the rules of the advertising platform you are working with. Some can ban you for promoting betting services.
The "cappers" approach
When it comes to the "cappers" method, your main task is to make an impression of a professional capper who gives accurate predictions, based on some insider information, knowledge of the sports world and your own instinct.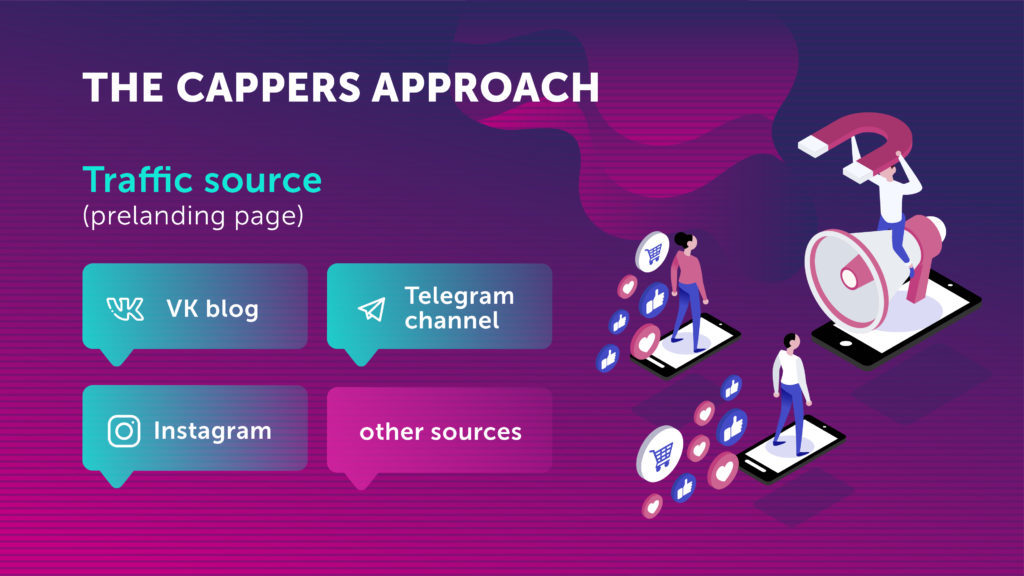 The current trends show that popular and successful cappers (and CPA specialists) tend to drive users to their own websites (outside the social media sites.) Why? Firstly, betting promotion is banned onalmost all social networks. Secondly, you can use push notifications and collect e-mails on your website. Such a database of users is an asset you can use for additional monetization (you can even drive them to other betting platforms).
You also need to create a social media profile (Instagram, Telegram channel, VK blog), where you will be able to post news and articles from your main website. A large, high-quality independent website builds more trust.
Where to get the predictions?
There may be a few approaches here:
You can simply make them up;
You can buy predictions from professional cappers and resell them;
You can search for free predictions on sports news websites etc.
You can become an expert yourself, follow sporting events and base your predictions on your own expert opinion
Let me point out that you shouldn't be afraid of posting inaccurate predictions: if you look at the existing websites and social media groups, you'll see that user comments and posts are disabled everywhere. The user simply has nowhere to go to share his negative experience.
Getting help from affiliate platforms
Firstly, affiliate platforms offer higher payouts. They work with higher volumes of traffic, which explains higher rates compared to working on your own and driving traffic directly to a betting website.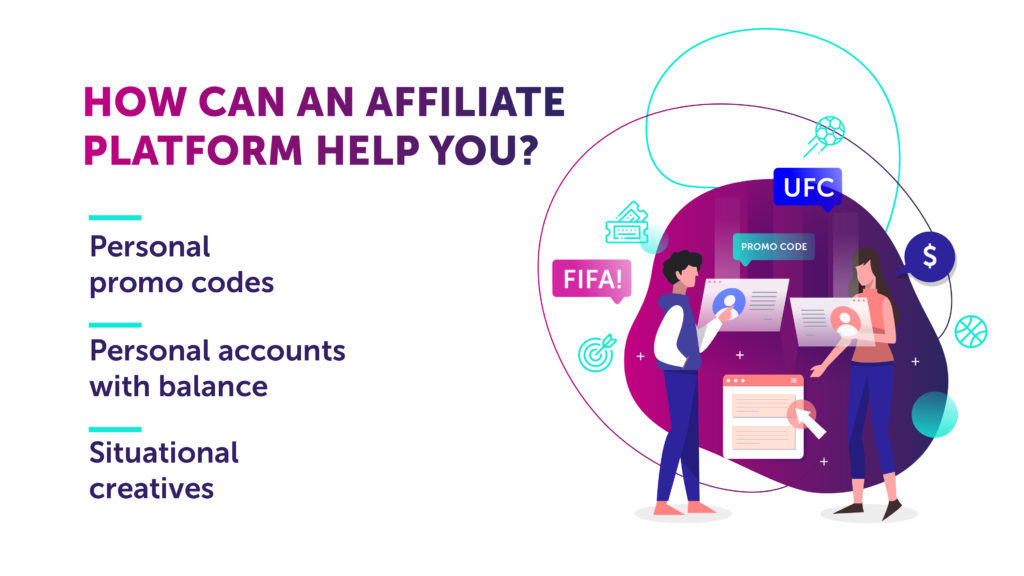 In addition, you can get your personal promotional codes, including bonuses for every deposit made, payout multipliers and many other perks. This will help you improve user engagement and achieve higher conversion rates.
Also, the betting website can provide fake balance screenshots through the affiliate platform, which you can use to attract target audience and make creatives (for example, a screenshot of your own successful bets).
In addition, a CPA network will help you with creatives for a specific situation: championship, event, tournament, game, etc. Don't hesitate to share your idea with your account manager and to ask them for help.
Ways to further monetize your traffic:
Paid subscriptions to sports forecasts (you determine the fees);
Betting training courses for beginners, from how to register on a betting platform to advanced betting tips and tricks. You can either charge for these courses or they can be free (but they will help get users register on the betting platform you're promoting);
Growing users' betting accounts for them. You bet instead of your clients using their personal accounts (if you have experience) and take a percentage of the winnings;
Developing individual strategies for bettors (for a fee). You show them how to bet to win, what to do not to lose the money and so on;
Writing articles, betting platform reviews, doing sports analysis, etc. Use SEO techniques — and you'll get a source of passive traffic and income.
Examples of successful ad campaigns
You will need to show how successful you are thanks to your cappingand betting techniques. Create social media accounts and demonstrate how rich and successful you are by posting pictures of your luxury car and so on. To make the moderation process easier, you can work with users individually rather than posting about betting directly from your social pages. Don't forget about your target audience — it's a source of hot, active leads. Target sports app users and social media groups dedicated to sports events and predictions, etc.
These are the examples of successful ad campaigns that passed moderation.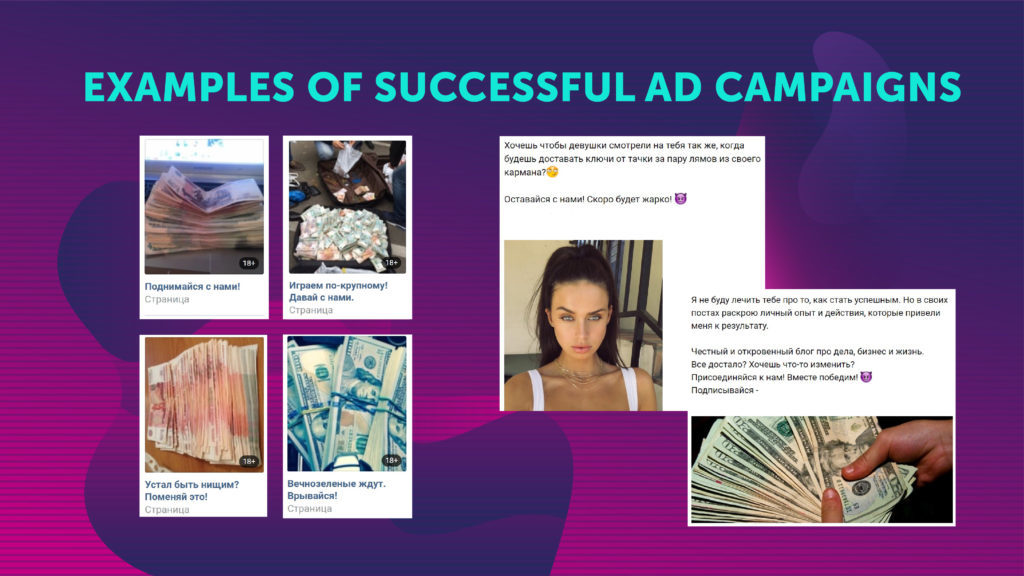 Let's sum it up
Betting is a profitable vertical. Partner with Alfaleads, choose an offer you like and start driving traffic to it!