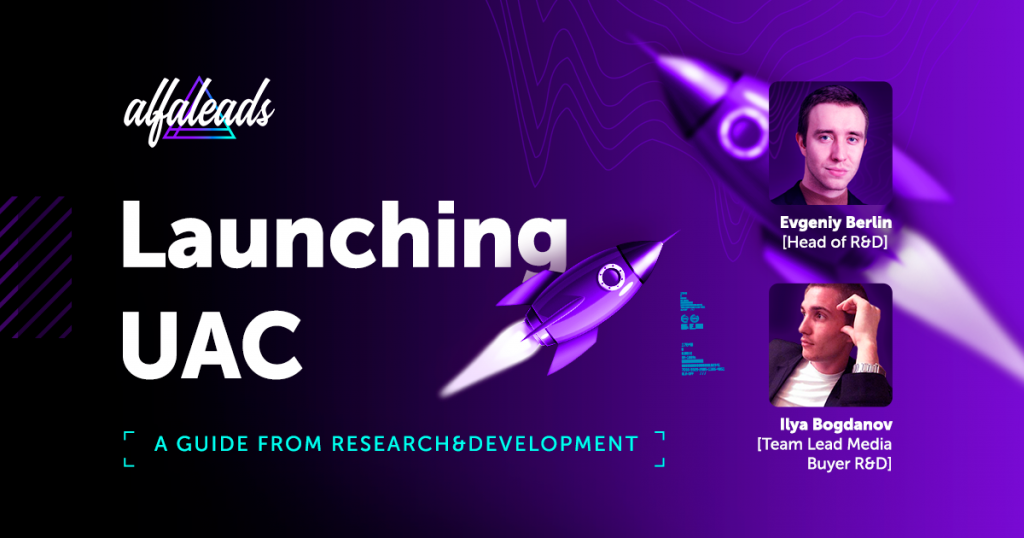 What is UAC?
Google UAC (Universal App Campaigns) is a universal advertising campaign for mobile applications.

With these campaigns you don't have to dive into manual settings, Google compiles the ads from the text, images, video, and HTML5 objects that you have in your account. And if one of these elements shows better performance, the algorithm will use it more often.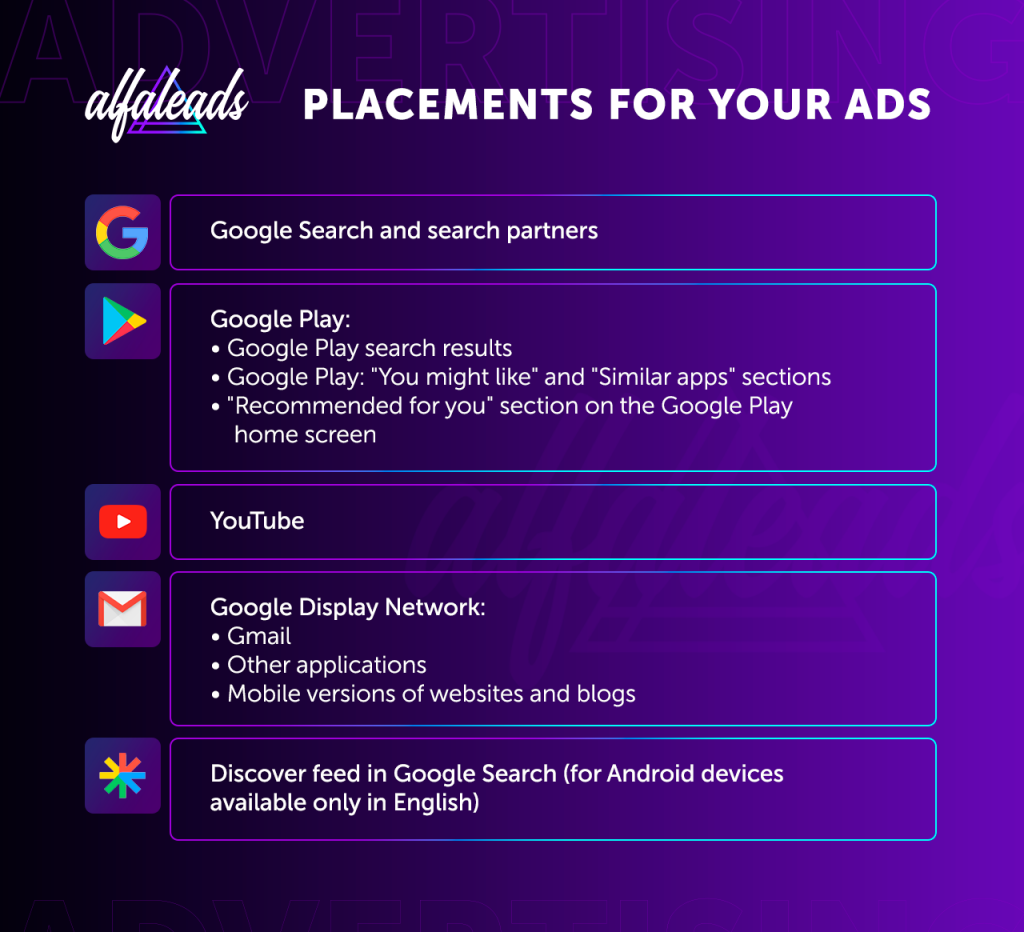 Why everyone wants to run UAC
Some believe that UAC is the only source of live traffic left, though we at R&D do not share this view (we will talk more about alternative traffic sources in the next articles). Though it would be silly to deny that with Google UAC one can work with almost any vertical, including iGaming and Dating. Google takes an "innocent until proven guilty" view towards the advertisers as the applications we use in the campaigns are already approved by the store. This means that you, as an advertiser, can be trusted as well.
How we work with UAC
We would like to emphasize that this is not the only way to work with UAC, there are many more. For the time being our team chose this method.

Before the launch, it is important to study the application carefully as it is the key element of your future campaign.

It would be even better to split test 2 or even 4–5 applications.

 Alfaleads provides its affiliates with iGaming and Dating applications free of charge. For the details contact your affiliate manager, don't be shy! 

Testing creatives
We usually make at least 2–3 takes. If we have several creatives, we follow this scheme:

1 campaign — X groups — 1 video creative

Thus, the group always has only one creative. If you put everything in one group, Google will automatically display the videos with the lowest cost-per-install. It is easier to test creatives if you have several groups.

Example:
Pay per deposit = $50.
Set a budget of $50–60 for the test campaign. Duplicate the campaigns a couple of times. Analyze the performance cutting off the groups first, then the poor performing campaigns.
 If you wish to see the kinds of creatives that get approved by Google UAC, contact us and mention the R&D-UAC promo code. We are ready to share the examples of our videos and texts. 

Testing approaches
We create one campaign and group creatives into ad sets by subject: news, slots, emotions, etc. This is necessary to assess the performance of the ad sets and choose the best one.

Example:
Pay per deposit = $50.
Set a budget of $100 for the test campaign.
Analyze the performance cutting off ad by ad, then eliminate the ineffective groups.

Testing bids
We create several campaigns and group creatives into ad sets by subject. We set different cost-per-install for the campaigns to compare their performance and to determine the most successful bid.


Example:
Campaign 1— automated bid
Campaign 2 — $0.5 per installation
Campaign 3 — $ 0.9 per installation
Campaign 4 — $ 1.3 per installation

Analyze how the cost per installation correlates with the performance of the campaigns. Eliminate the groups first, then the campaigns.

We recommend running campaigns with optimization for registration. Meaning you run a pay-per-install campaign yet optimize for the "Registration" event in AppsFlyer. When you reach 100 deposits, you can start optimizing for deposit. If you drive a pay-per-install campaign and optimize for registration, you cannot choose automated bidding.
How to improve slow conversion
First, try to increase the budget, though no more than 20% daily.
If this does not help, increase the bid.
Look for the best placement
Depending on your goals some placements will perform better than the others. For us Youtube is the major source of profit right now.

To display your ads on Youtube, try the following steps:

Add emoji to the two video titles and into the description
These will be rejected, in the meantime the video itself will get on Youtube. This works for the Russian and CIS segments: the videos still show decent conversion rate without any text.

Blacklist the unsuitable channels that display your ads
Log into your account and select: Reports — Predefined reports (Dimensions) — Display/Video – Placements. We look for channels that are not suitable for us (channels for kids, for instance) and exclude them at the account level.

Reupload the ads many times without aiming for text rejection
This works for the international segment as well.
What you need to do: duplicate and reupload the campaigns with all the ad groups. Also, reupload videos on YouTube without changing the names. Do this 10–20 times until the ad group or a campaign has the majority of impressions from "YouTube Videos".

At the campaign or group level find the "Segment" icon and go to the "Network" section with search partners. If you see Display Network (GND) as the main source of impressions for your campaign/group — exclude it.

Example:
500 impressions from GDN.
100 impressions from Youtube.

Solution: cut this group. It has more GDN impressions, and this means that your ads will be displayed exclusively on GDN.
You have launched the campaign, but get no deposits
If you already have a low cost-per-install yet still get no deposits: spend 2 worth of deposit amount for this campaign. Then stop it, reupload and duplicate it. 2–3 days are usually enough to see whether the campaign is going to convert at all.

Set exclusions
We recommend implementing such settings at the account level: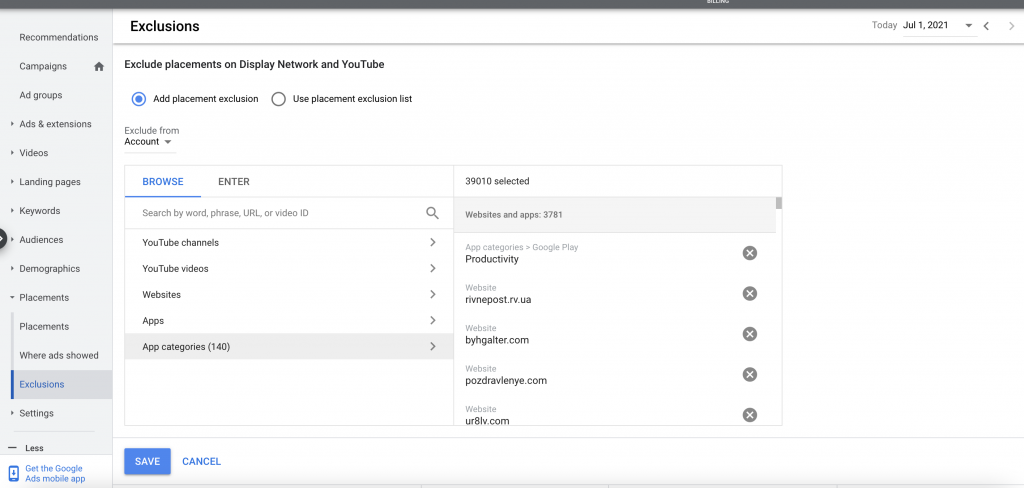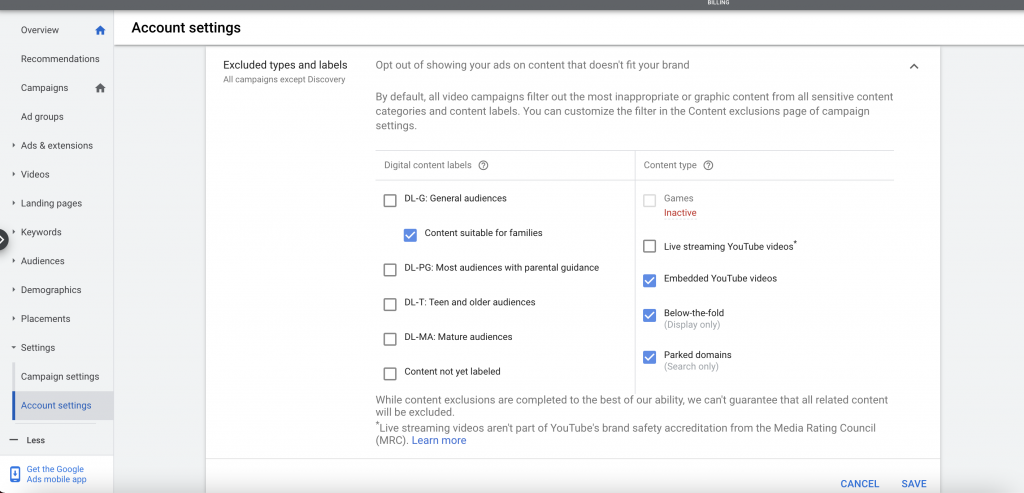 Add channels for kids and any other channels you don't need for the offer to the list of exceptions.
Sometimes you would see "Gambling" and "Adult content" listed in these groups. Don't pay attention to that, your ads should still be displayed. There is a chance that even after all these actions you will get no impressions. In this case you need to make your videos stand out more, reupload them, and see how it goes.
Dear friends, we hope that our guide will prove useful in your endeavors!

If you have any questions concerning UAC, send them to your affiliate manager — and have R&D specialists join your chat. We will tame this traffic source together!

 R&D (Research&Development) is a special department in Alfaleads that is engaged in finding new profitable combos through marketing and creative approaches. The R&D team also tests out the new sources, GEOs, verticals, and offers. The team supports Alfaleads affiliates by testing out different hypotheses and sharing the best-performing combos. 

Until next time!
your R&D team:
Eugene Berlin [Head of R&D] @eugeneberlin
Ilya Bogdanov [Team Lead Media Buyer R&D] @stennes