Everyone knows the method when we create apps to promote different offers and verticals and drive traffic from Facebook or AdWords to these apps. What's the pain of this process? Regular bans. Facebook and AdWords don't usually cause any trouble, but it's almost impossible to work with Google Play.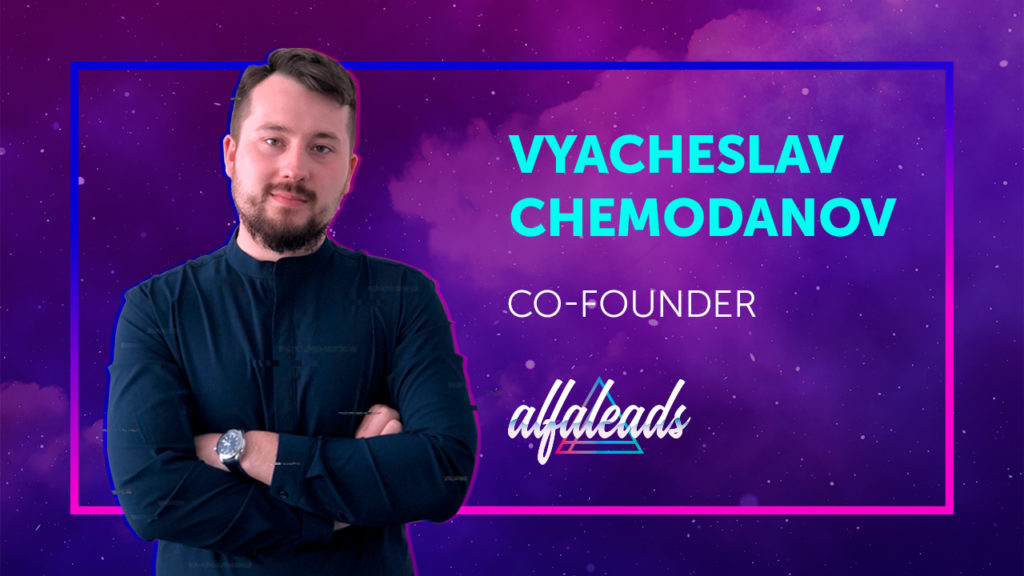 This graph shows the dynamics of an average lifespan of an app, beginning from February 2017, when we started driving traffic to apps and the whole market started doing it too (mostly for private offers). You can see how things changed over time. Obviously, the situation is alarming: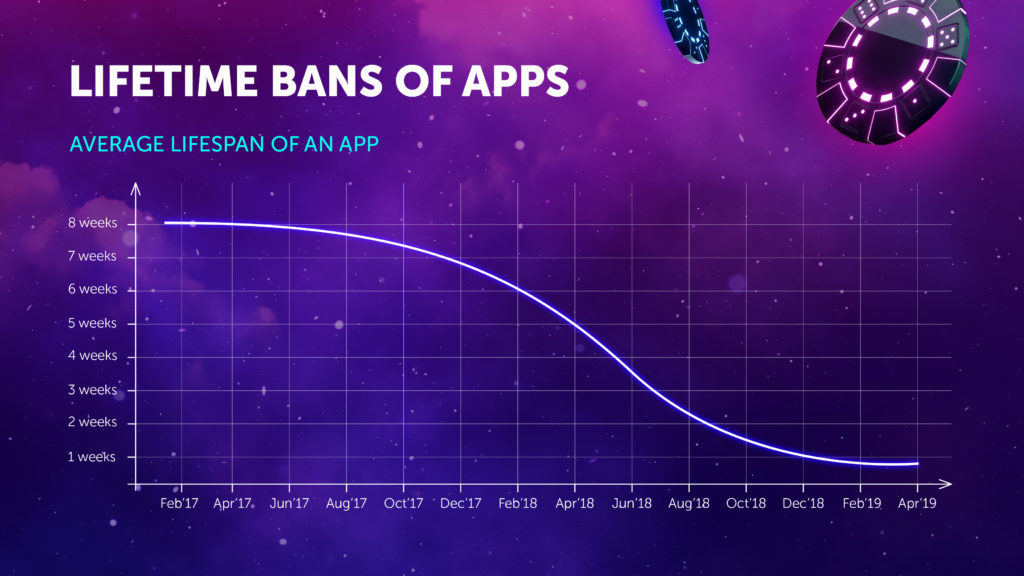 Why is it bad when an app is active for just a week or two before it's banned? During this short period, it's impossible to generate organic traffic, it's impossible to make the most of Facebook ads, and it's impossible to scale.
Today I want to talk about PWAs, which are an alternative to "classic" apps.
What we do is we make an offer look like a mobile app, but it's is not really a mobile app. It's something similar to a classic webview, but lighter and faster. Users don't have to install PWAs to their devices and you don't have to add themto Google Play or App Store. But from the point of view of the user, they look like standard mobile apps. In fact, a PWA is just a light version of a mobile website which creates a bookmark on the home screen of the user's smartphone.
How it works
You have a prelanding page or website with an "Install" button. The user taps this button, the smartphone asks whether or not to add the app, the user chooses "Yes" — and the app's icon appears on their home screen. That's all!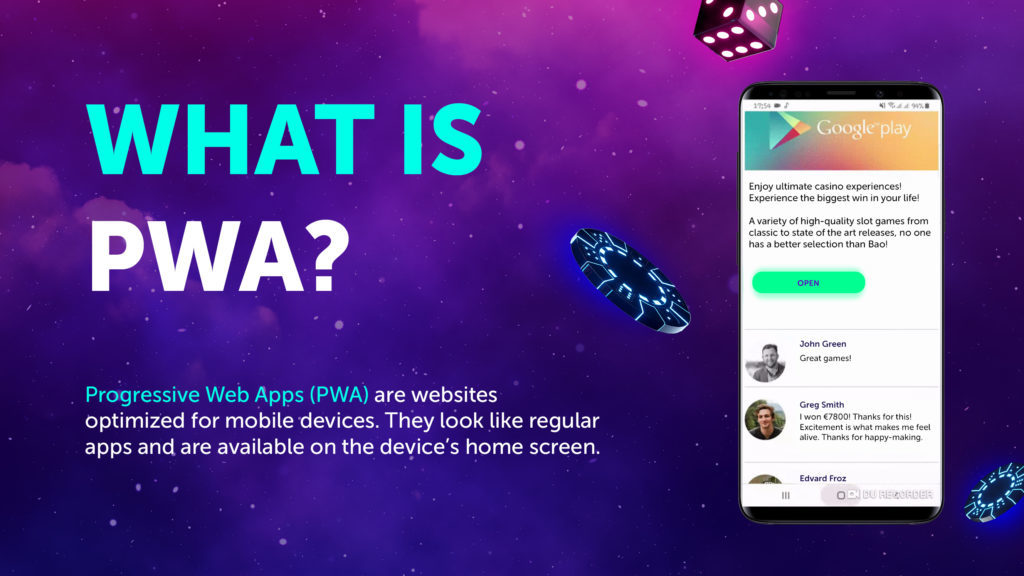 A regular mobile device user can't distinguish between a classic mobile app and a PWA. Basically, they don't care what it is. All they need is content.
It's important to use apps to engage the user. When they have an app's icon on their smartphone's home screen, they open the app from time to time, so you create an entry point for the user. This is well felt in Gambling and Dating — the quality of such traffic is much better.
Benefits of PWAs
No one will ever ban a PWA. After all, it is impossible to ban an app that has never been added to Google Play or App Store.
You don't need to spend money on app development. I'll explain it a bit later in this article.
You don't need to get Android's permission to initiate app installation. If you deal with classic Android Packages, the smartphone asks the user, "Are you sure you want to install this app from an untrusted source?" Thismakes them lose their trust and as a consequence, lowers conversion rates. There are no such problems when you work with PWAs.
Quick installation. The user doesn't need to download a 500 MB app to their device.
100% effective formula for those who want to try working with the Gambling vertical
I will tell you about a recent case that took place from 1 to 14 April.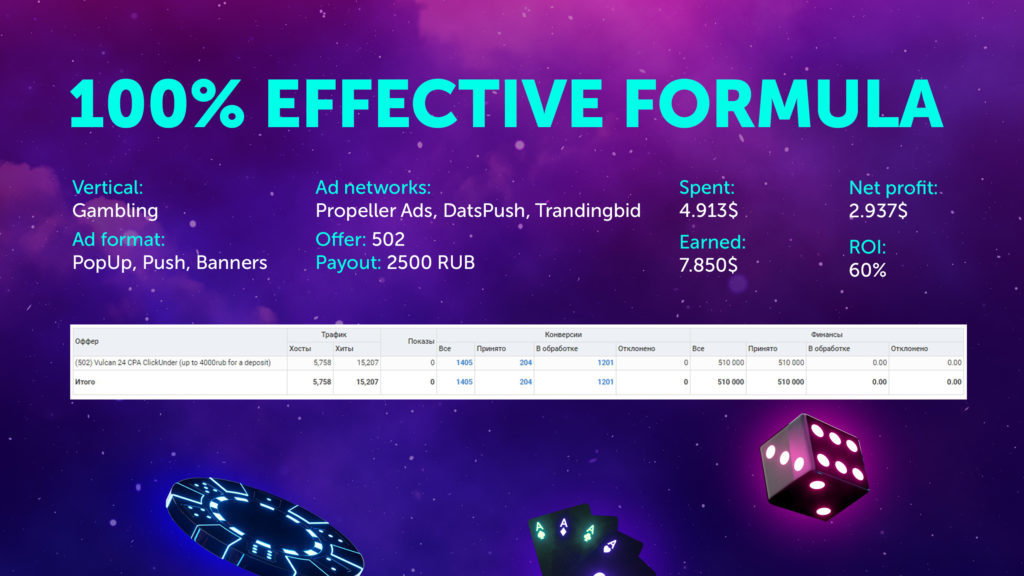 We mostly drove traffic to push notifications. We used an offer with a low payout where low quality traffic was accepted (in the end it turned out that the traffic was good and we could have used an offer with a higher payout). We spent $5,000 and earned about $8,000, so the ROI was 60%.
We had 3 prelanding pages, two of which were very similar, and the third prelanding page was a fake Google Play page.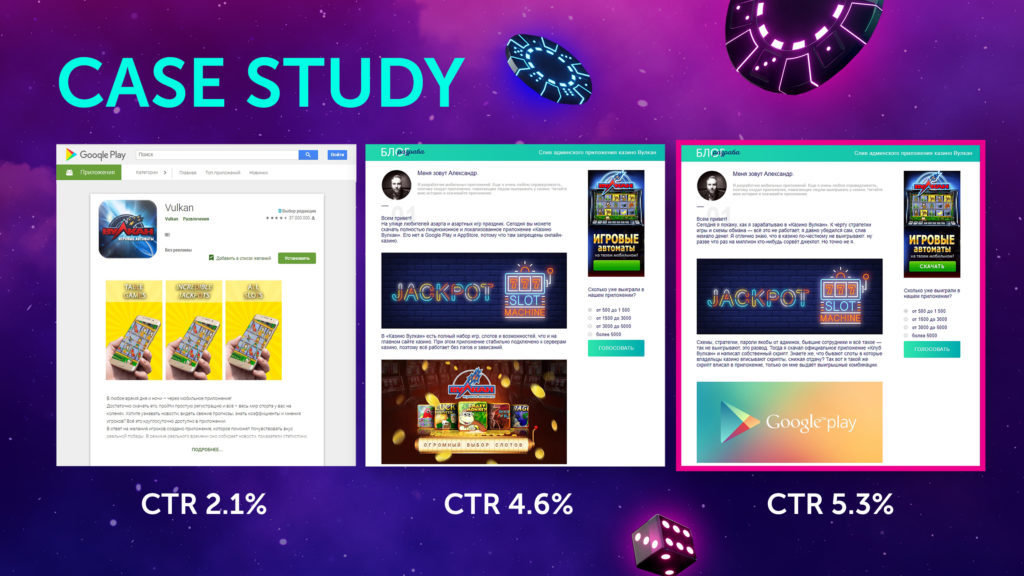 Prelanding page, version one: we just created a page that looked like a Google Play page, played with its design a bit, assigned it to a domain that looked like aGoogle domain, and made the "Install" button redirect users to our PWA.
Versions two and three looked like a blog of a programmer who develops algorithms for beating casinos. On version two of the prelanding page, the programmer writes about an app he created and gives a link to this app in his blog post (he says Google banned it on Google Play)
The third version of the prelanding page is a blog post where the programmer describes how he downloaded the original casino app and provides screenshots illustrating the winning formulas. He has a countdown next to the link to his appsaying that it's going to be available "only today and only now". Naturally, the CTR was higher for the third prelanding page, but the difference wasn't critical.
Here are the stats for each prelanding page: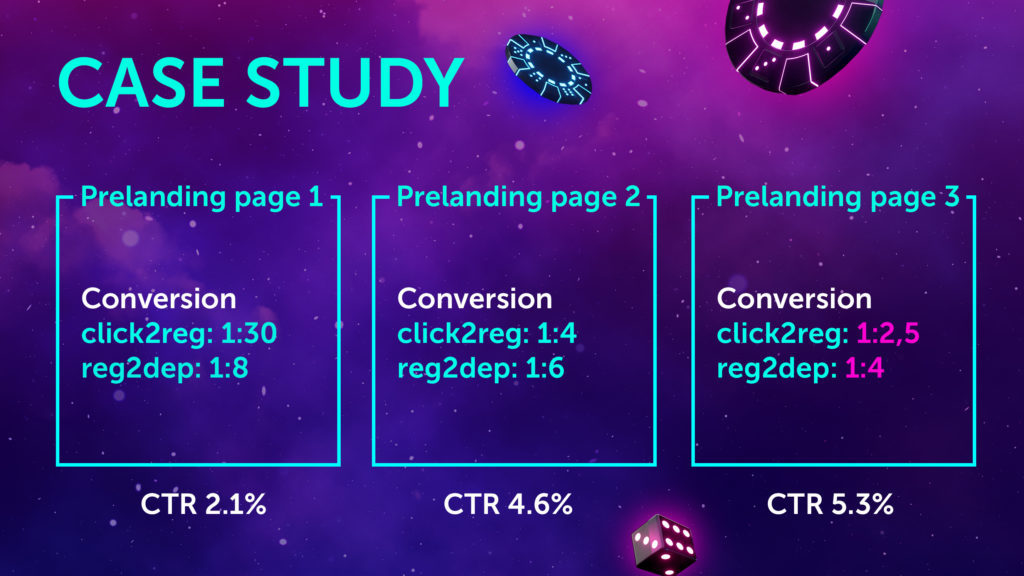 Our PWA Builder
In our company we pay great attention to the development of modern technical solutions. Let me tell you about a new project that we created here at Alfaleads. It's called PWA Builder.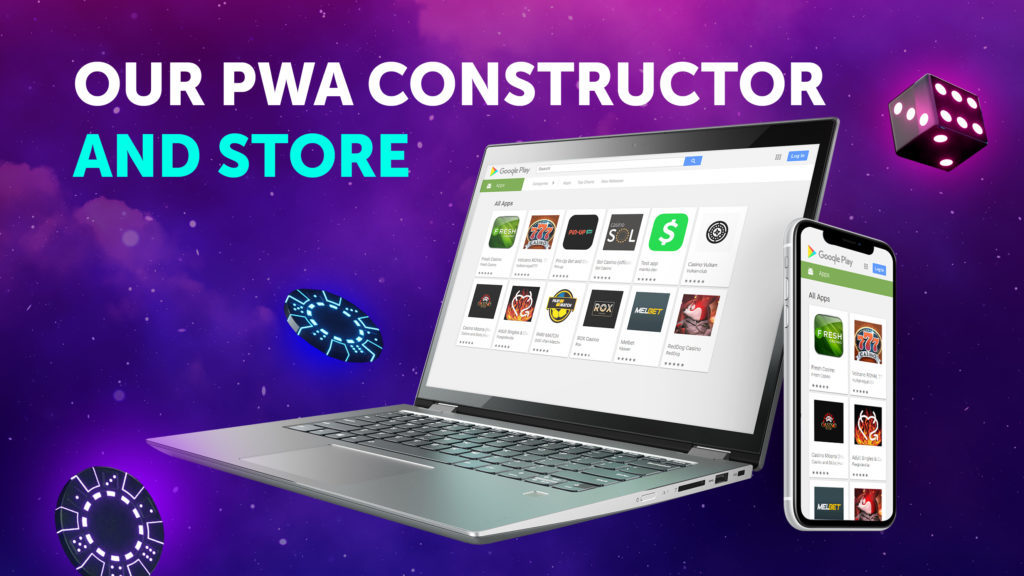 This tool looks very similar to Google Play. It has an admin panel where you can customize the entire store: add and remove apps, change logos and modify store design.
You can ask your personal manager for a free access to the admin area, create your own app store and try to drive traffic to it.
How to create an app on our platform
It's very easy: you upload pictures, links, descriptions and reviews. There is no need to have coding skills – just fill out the forms, click on the button and get your app in the store, together with a link to it. You can start driving traffic to it without spending a single cent.
Our PWA Builder is a great tool for beginners who have never dealt with Gambling offers before but really want to try. You should start with push traffic, figure out how everything works and get your first money. Of course, you can lose some money (just like with any other niche), but it's much less likely than when you're dealing with traditional ways of driving traffic to Gambling offers.
Traffic sources and targeting
When it comes to PWAs, you should only target mobile Chrome users. If you are dealing with a classic app, then just target Android users.
As for the source, it can be anything. For example, we use, among other things, white hat SEO.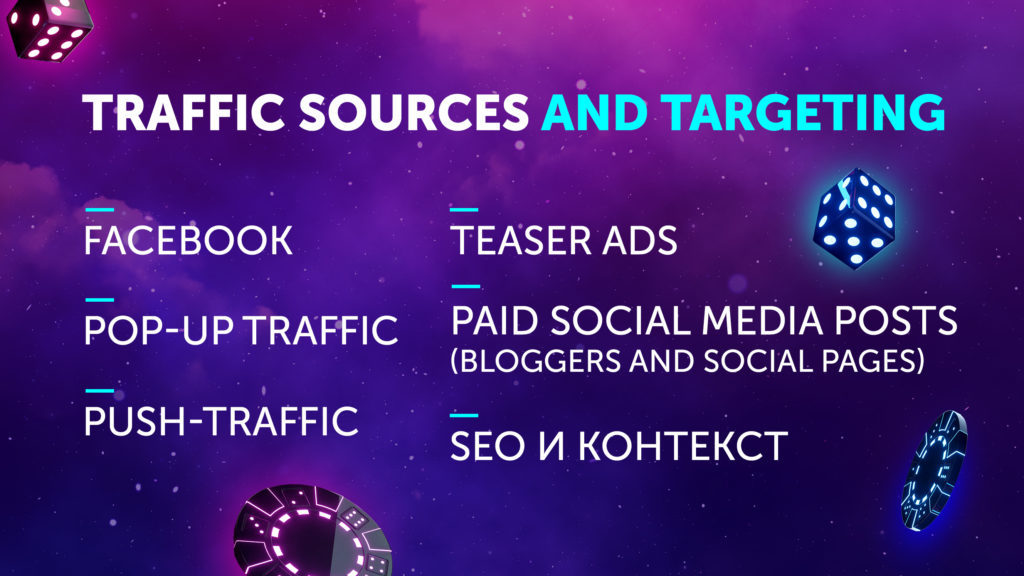 Not just Gambling
Apart from Gambling, you can use our PWA Builder to create apps for other verticals. When analyzing the market, we have seen successful examples in other verticals: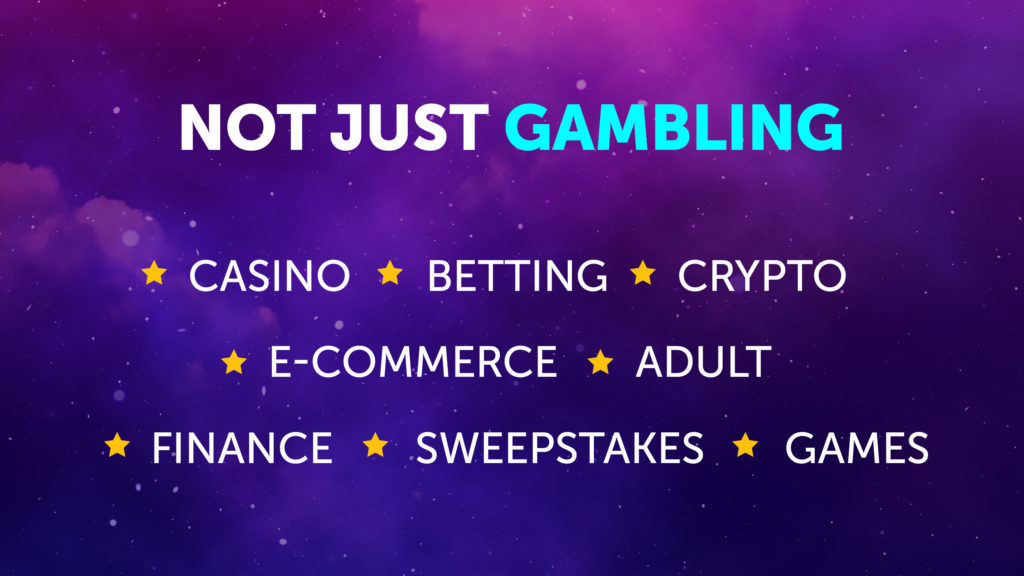 APK Builder
If you think using PWAs is not enough, we have created a constructor for creating native apps. It has its own cloaking technology, deep link generator andother modern tools. How does it work? We either give you an admin access, or your personal manager builds an app for you. In the admin panel you need to upload the link, images and the SDK file. Then just click the button, and your app is ready.
Want to use our PWA or APK building tools? Contact your account manager to get access to them!