Hi, I'm Roman Manuylov , I'm Alfaleads CMO.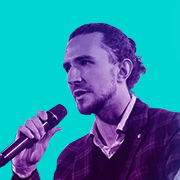 Just recently, I've been to a meetup organized by ImLive, one of the leading webcam platforms. The key market players discussed the future of the adult industry and offered some interesting ideas I'm eager to share with you.
Vitaly Sitovsky presented a case of driving traffic from Facebook to webcams via apps. It showed that the webcam sector is not that hard to work with, especially if you have experience with gambling.
The apps themselves are pretty similar to gambling apps: they have the same native part and the same web view. Of course, the design of the app would be different. But if you know how to make these apps or where to get them, you won't have any difficulties. (Plus, we can help you with that.)
Who's the boss in webcams?
There's this idea that it's better to start with cheaper GEOs (TIER 2 and 3), because they have a huge audience and it is easy to get. But with webcam offers, this idea is totally wrong. The best traffic the advertisers want is TIER 1, since what the advertisers care most is the experience of the model. It is the model that approves or declines the leads.
The first question the model asks a new user is, "Hi, where are you from?" If that person is from any third world country, the model probably won't engage with him at all. The girls are obviously interested in more cash-rich clients, those who come from the most affluent countries.
That is why the advertisers in these verticals care more about traffic quality than its volume. There are some cases when a single user spends 20 to 30 thousand dollars on a webcam service. Like high rollers in casinos, these are the people the models and, consequently, the advertisers need.
The most in-demand audience for webcam models is this: a single man of 35 and up, maybe divorced and with children, who lives in a rich country like the USA. Interestingly, these are often working-class people, but they have a good income and can afford spending it on webcam girls.
Why I think this vertical has potential
Webcam is an old and tried vertical, but recently it's been getting a fresh boost of popularity. Why was the adult sector almost forgotten by the publishers not too long ago? It was getting harder for apps and promotional content to pass moderation. But the reality is, it has become harder to pass moderation in all the verticals: both Gambling and Nutra are pretty difficult nowadays.
So, as you can see, the adult vertical is now as difficult as any other. At the same time, the competition is not that tough, and the strategy is much more interesting. What's more, this is an endless source of income, because sex will sell as long as humanity exists.
What else you should to pay attention
The age of the models
Experience shows that girls aged 23-30 are best for conversion in promotions.
Target audience
In webcam you can and should work with a diverse target audience. As well as single straight men, these can be transgender, queer people, etc. The only limit is your imagination.
Sources
Facebook is definitely the top source here. Email marketing works well, including spam. Teaser networks have lower volume, but can be effective as well.

Promotional content
Facebook lends itself to safe, "white" promotional content, because the social network is very quick to ban accounts. (Some edgier content may get banned in a single day.) A good example should be this teasing video without any nudity:
What can Alfaleads offer you
We are ready to audit your funnels together with the advertisers, suggest better ways to set up your campaigns, and give general tips on what you should pay attention to. So if you want to enter the adult vertical, you've got a great chance to do it right now!
We have a whole range of webcam and adult dating offers with good conversion rates. Here are a few examples:
imLive – webcam-CPL DOI [multigeo]
Confirmed sign-up. Dynamic payout.
MeetWives – [CPL DOI] – [US, CA, AU, UK, IE, NZ] – [Male 35+]
Confirmed sign-up. Payout: 2.5 USD
FlirtLocal – [CPL DOI] – [AU, NZ] – [Male 35+]
Confirmed sign-up. Payout: 1.6 USD
WellHello – CPL|SOI – [US/AU/NZ/CA/UK]
Sign-up. Payout: 2 USD
HushLove – CPL|SOI – [US/AU/NZ/CA/UK]
Sign-up. Payout: 2 USD
You can check out all the offers on Alfaleads.net. Your personal manager will help you choose the one best suited to your needs.
Also, if you'll need some promotional content for the adult vertical, we can send it to you. DM your personal manager!

Roman Manuylov,
Alfaleads CMO